I have to admit I am a bit ashamed. It appears it takes very little to throw me off my self-imposed scheduled deadlines. Until this past week I had been doing quite well with my
Monday
and
Friday
publishing dates. But add a little setback to my injury; mix in a few days of work-related bureaucracy that could make me cry; and top it off with the return of two children and a few truckloads of belongings, and my routine has taken a hiatus for a week. Time to get back on track.
In anticipation of The Ontario Library Association's (OLA)
Forest of Reading
Program, I started out making book trailers for the Red Maple-nominated titles for 2013. When I first introduced the titles to my grades 7 and 8 students, I showed them the trailer for Valerie Sherrard's
Testify
that I had created. I am happy that I achieved my goal of grabbing their interest with this short trailer that doesn't really give away any of the plot, but I was totally surprised by the reaction I received to the technological and creative aspect of trailer-making. Once they heard that this was something that I had made the students were so enchanted by the idea of designing their own book trailers. Immediately I had hands up asking if I would teach them how to make their own trailers. What was equally inspiring was that it wasn`t just the typical students that I expected to be excited by this project. I found that creating book trailers is a really good way to reach out to
reluctant readers
. There is no denying that the activity appeals to the creative side of many individuals. The fact that it requires students to read the book initially may just be the hook that someone needs!
Animoto
makes it very simple. I was able to get a free educational account, and using g-mail I set up numbered profiles for each student that are linked to my log-in account. Step-by-step procedures are easily found on the Animoto website.
What I appreciate about
Testify
is that it is a quick high-interest read with a plot line that is edgy enough to score high on the cool factor. It should appeal to students with a lower reading level without being juvenile in any sense at all. The book jacket itself, combined with the short length (128 p.) will be very attractive to reluctant readers. Intermediate students will be able to relate to the girl cliques and the manipulation that often occurs by the "queen" of these groups. The issue of needing to belong in a peer group is also dominant in this story. Although I can see both boys and girls reading
Testify
, it should mostly attract girl readers in grades 7-9.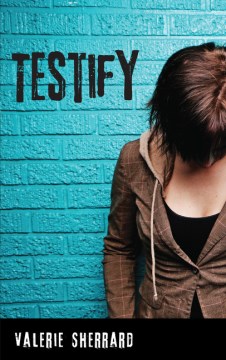 Sherrard, Valerie.
Testify
. Toronto: Dundurn Press, 2011. 128 p.
Genre: Realistic Fiction
Audience: YA (grade 7+)
Watch my trailer here:
Testify Book Trailer